2023-05-22 09:33 - Making
When I moved in here, the house still had the original single pane windows from the 40s installed. Not only did that merit attention, there was historically only a single air conditioner in the whole house — installed in the one window that had been replaced with a more traditional double-hung arrangement, to fit the A/C. And since it was responsible for the whole house, it is a big unit! Very early this year, we had all the windows replaced. That means they're "replacement" windows. Rather than being built into the house (i.e. "new construction" windows) they're designed to fit into the existing opening. Which means some of the structure of the window moves inward, to what used to be window opening. So, this one important window opening is now in a slightly different place, and the existing support structure won't hold up the existing A/C correctly. Given that it's such a big one, I wanted to be sure that we can hold it up well. So I came up with a design.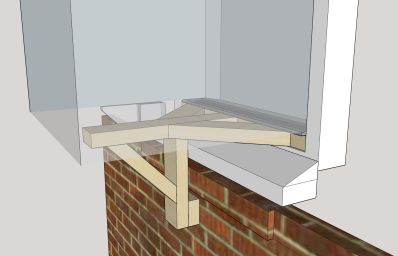 It starts with a 2x4 cut into a complex shape to fit around all the bumps and tabs in the window frame plus a bit at the bottom of the A/C which sticks down. Attached to that is another which sticks straight out, two to brace it, and then another which sticks down. This final one has both a triangle brace and an extra foot to reach around the brick window sill down to the main exterior wall of the house.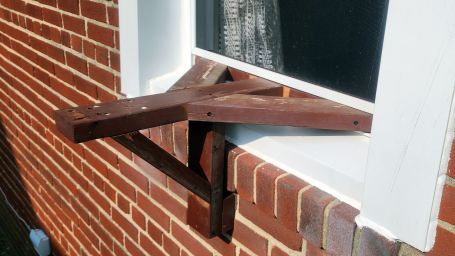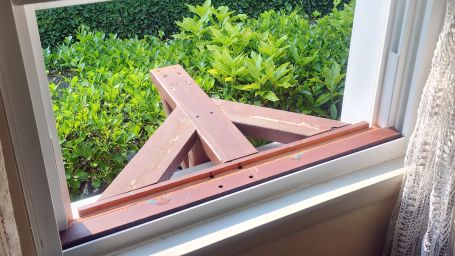 Here it is. It was built from reclaimed wood which used to be a bench. It's not the prettiest, but it will be underneath the air conditioner, so it doesn't need to be. It's full of extra holes, but that's OK. It's also wood from a product meant to be outside. I'm not sure what kind of wood, but it's reddish. I could believe cedar, either way it should stand up to the elements OK. Some of the building was done a bit freehand, but with the key sizes measured it came out extremely close to my original design. I can pretty well hang myself off it, so I'm sure it will hold the A/C up just fine.