2023-01-02 09:57 - Making
A while ago I made "The Bedsofa", a sort of headboard designed like the back of a sofa, for comfortable sitting up (and reading) in bed. When I made it, I was living in a loft apartment, and it was designed to work with the mattress sitting right on the floor. (The loft was around four feet high, no room to put the mattress up on a real bed, there.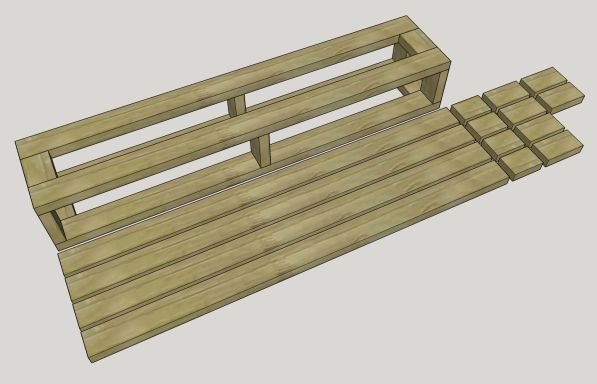 The riser I've designed, plus an "exploded view" to plan how many boards will be needed to build it.
So this is the plan: a simple little frame, to raise the bedsofa the same amount that the bed frame will raise the mattress. Almost. My original design didn't work out perfectly so the cushions hang a bit lower than intended. Raising the bedsofa a little bit less than the mattress will make those sit up where they were originally intended. So this will be ten inches tall, while the bed frame is twelve.
I've still got the rest of the material I upholstered the bedsofa with, so this riser should blend right in. Now I've just got to figure out the best way to get some two-by-four boards home!