2015-06-09 18:33 - Making
A while back I developed a sudden interest in the TRS-80 Model 100, a truly portable computer from 1983. I watched eBay for a while and discovered that the amount they sell for exceeded my desire to own and play with one. But through that route I discovered it's little cousin the PC-2 (a rebadge of the Sharp PC-1500). Those were cheaper and I grabbed one.
By default it has 1,850 bytes of RAM available for use. But it's got an expansion slot built into the bottom. There are 4K, 8K, and 16K memory expansions available for those slots. But being an accessory for a niche product from the early 1980s, they're generally rare and expensive. Given my recent kick for developing electronics projects, I decided to design my own. Just as i was finishing it, then I caught an "as-is untested" CE-161 listed on eBay. I managed to snag it for just $11 (plus $5 shipping).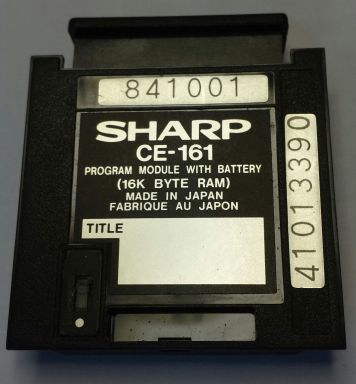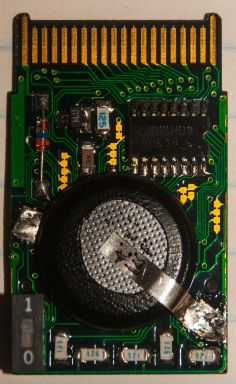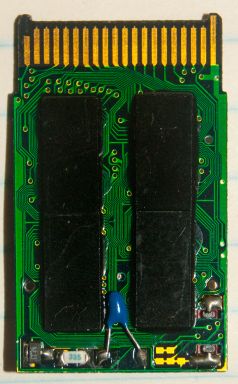 I gave it a quick shot, and it does appear to be slightly defective. It doesn't seem to store data quite right. But now I have it, and an opportunity to examine it up close. Towards that end I've taken these close-up detailed pictures (click and/or save the links for full size). I might even need to get it under a microscope to confirm things, but even just the pictures are easier to look at than squinting at the real item, which is 1.1 x 1.8 inches.