2022-12-31 21:38 - Making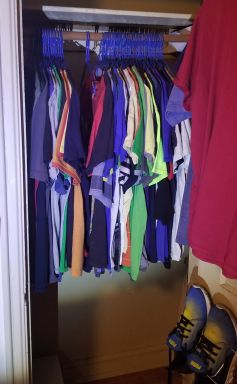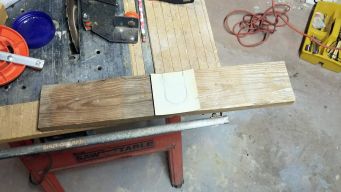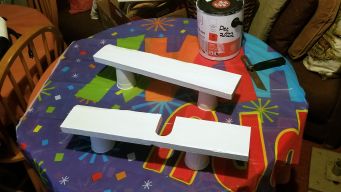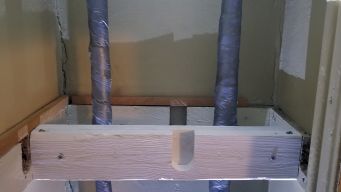 I moved almost exactly a month ago. The bedroom closet has a unique closet rod situation: self made hangers, from 1x4 lumber, around the perimeter of the closet. Since the closet is shallow but wide (I guess), they were installed to allow either two front-to-back closet rods on the sides, or one across the width. But the long closet rod in there isn't long enough to reach the hangers on either side, and the width is much more than double the depth. I'd like to use the long closet rod, but I can't as-is.
There's also some pipes feeding the radiator upstairs, tucked on one side. So the solution seemed to be to build a new hanger in the right position to support the existing closet rod, plus avoid the area with the heating pipes at the same time. I started by cutting a board to length, and finding the right shape hole to match the one already in place. I cut a second board the same length, to be a backstop so the rod can't slide and fall out.
Once cut, the boards were painted white to better match what already existed in the closet. Four "toe-screwed" screws support the main board, with the cutout, from each corner. Two screws go through the face to support the backstop board from there. Once installed, you can see the preexisting hanger already along the wall, which the rod couldn't reach.