2018-03-24 21:33 - Making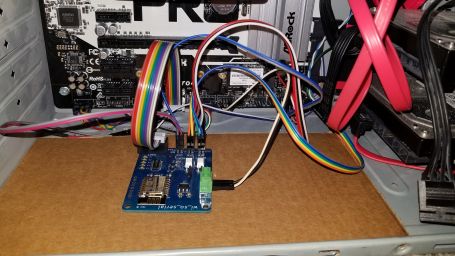 For months, stalled by a partially broken computer, I've been working on this project. I have a server at home (and another for remote backups, at a relative's house). And I've got full disk encryption which needs a password to unlock, at boot. Which means if it ever reboots I have to physically be there to get it going again. I'd like to be able to administer my servers remotely.
I've looked into commercial IP KVM devices, but they cost hundreds of dollars. Since I'm working with Linux here, in theory all I need is a serial terminal. So I've designed a serial-to-WiFi bridge. The picture above is the first one that I've ever had working, installed. The ribbon cable hooks up to the internal serial port header, the green terminal plugs into an unused USB port header for power. Then there's snaking trails of several other pairs of wires: one each hooking to the case and to the motherboard for the power LED, the power button, and the reset button.
Most newer motherboards power their USB ports all the time, even while the computer is off, this one included. So I can remotely power up or down, restart, and then control the computer. In theory. I've just gotten far enough to test all this, and discover performance issues. I've got all the computer-side setup to manage, yet. But after working on this since August, it's great to have it finally proven to really be workable.