2021-09-09 18:08 - Making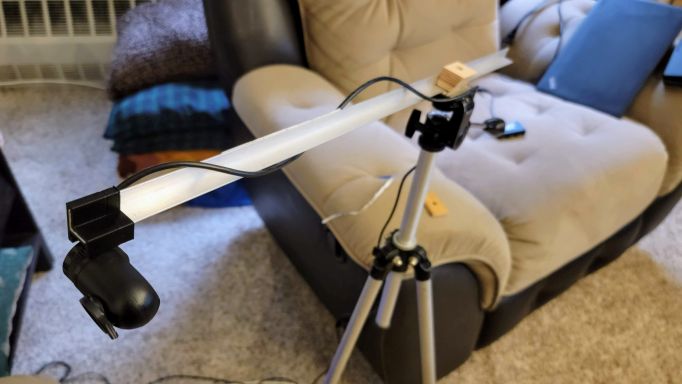 As mentioned earlier, I've been streaming my video game play online. To improve the stream, I've added a webcam to show my face. I've got a (probably?) unusual setup, in that I'm just sitting on my couch, looking at my TV, as I always have while video gaming. No good spot to put the camera. My first try just twist-tied the camera onto the tripod, then aggressively cropped that, to keep just the part that's my face. This moves the camera much closer to me while keeping the legs further away, because they need to be given the furniture layout!
It's a tiny piece of wood, drilled and tapped for quarter-twenty, to attach to the tripod. A matching hole is drilled in a bit of "angle iron" (aluminum, actually) I already had lying around. At the front is a 3D print I quickly threw together which (thankfully on the first try!) friction-fits around the angle and the camera's own mounting knob.
My streaming setup is pretty cobbled together, like this. Which is absolutely fine for now!