2022-02-13 12:48 - Making
I had to do laundry, and I was out of funds so I had to trek to the basement to recharge my laundry card. While there, I passed the electronics recycling bin. I spotted a nifty looking two-outlet four-USB power strip. Sometimes people toss things that are perfectly working. This one was not.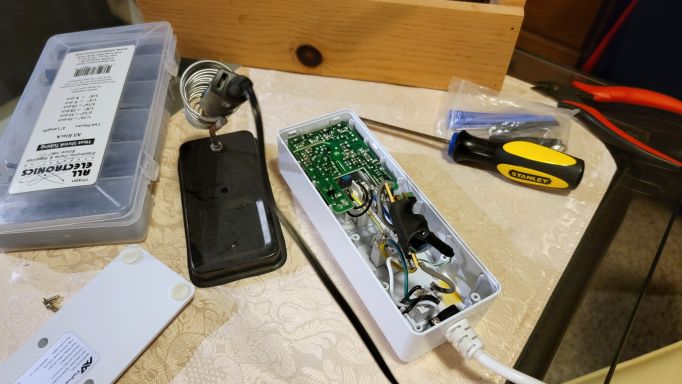 But it looked pretty nice, so I took the time to look into it. First I tried the USB ports, nothing. A little dot on the front looked like a status light, not lit. Then I tried the AC outlets: those also didn't work. At this point, it was time to open it up. There were two visible screws on the bottom, but that wasn't enough. There were two more screws, under two of the four rubber feet. Then some plastic clips holding the base on, and I was in. I found a much larger and more complicated circuit board to run the USB ports than I'd expect, and one smaller one.
The smaller board was directly connected to the AC input, one leg via the switch. Once I flipped it out, I found what not only looked clearly like a fuse but also was labeled "F1" on the board. And it was blown. I couldn't see what its original ratings were — this was a little glass fuse, the ratings are normally stamped on the metal ends. I ended up putting an 8 amp fuse in to replace it, from what I already had on hand. Which was a bare fuse, no leads like the original had. So I took some short wires, soldered it in, and covered everything in shrink wrap (like the original) to be safe. You'll have to look close at the picture to see it: it's at the bottom/right of the picture. A large black blob is the original shrink wrapped board. The smaller and closer black blob is the new shrink wrapped fuse, with little green wires leading back to the board.
Once I put the fuse in and closed it up: everything works fine! And of course, the status light is an awful bright blue thing. The hole for it is small enough, but tons of light leaks around the USB ports.